Advisory Board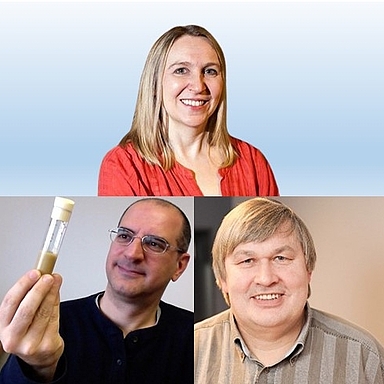 GenEvo's Scientific Advisory Board
We are very thankful that Franjo Weissing, Patricia Wittkopp and John Parsch support GenEvo as Scientific Advisory Board! These three internationally renowned scientists with experience in establishing PhD programmes agreed to support the development of our programme.
Franjo Weissing - Mercator Fellow
We are very pleased that Franjo Weissing reinforces GenEvo's expertise as Mercator Fellow! Franjo is a well-known evolutionary biologist who combines theoretical and experimental evolutionary biology. With his collaboration, additional competence is gained for our projects and the RTG's visibility is increased. He is associated with GenEvo over the long term, including on-site visits in Mainz to foster collaborations. He contributes to GenEvo's training programme by a workshop on theoretical evolutionary biology with the title "Evolutionary design principles underlying gene regulation".
Biography:
Since 2005: Professor of Theoretical Biology, University of Groningen, Netherlands
2001 – 2005: Professor by special appointment, University of Groningen, Netherlands
1999: Elected Visiting Professor, University of Zürich, Switzerland
1994 – 2000: Associate Professor in Theoretical Population Genetics (UHD), Groningen, Netherlands
1989 – 1994: Lecturer (UD), University of Groningen, Netherlands

Education:
1990: Ph. D. University of Bielefeld
1983: Diploma in Mathematics, University of Bielefeld
Biography:
Since 2017: Arthur F. Thurnau Professor and Sally L. Allen Collegiate Professor, University of Michigan
Since 2015: Professor of Ecology and Evolutionary Biology, Professor of Molecular, Cellular, and Developmental Biology

Education:
1997-2002: Ph.D. in Genetics, University of Wisconsin, Madison, WI
1993-1997: B.S. in Cellular and Molecular Biology (with "Highest Honors" and distinction), B.S. Chemistry (with distinction), University of Michigan, Ann Arbor, MI
Biography:
Since 2001: Professor, Faculty of Biology, University of Munich, Munich, Germany
1999-2001: Postdoctoral Fellow (Department of Organismic and Evolutionary Biology), Harvard University, Cambridge, Massachusetts
1998-1999: Postdoctoral Fellow (Department of Biology), University of Rochester, Rochester, New York

Education:
1998: Ph. D. (Molecular and Cell Biology), University of Maryland, College Park, Maryland
1992: B. A. (Biology), Washington and Jefferson College, Washington, Pennsylvania